WORKSHOPS AND MENTORING
1-1 mentoring outside or online is already possible! See below for more information.
As soon as the pandemic situation permits, I'll be able to offer groups workshops again.
Until then, stay safe! Looking forward to painting with you again!
All painting workshops will take place in small groups, as it is important to me to be able to respond individually to your level of knowledge and your wishes. Therefore, both beginners and advanced learners will benefit.
If you are interested, sign up for my newsletter to find out immediately when I announce more detailed information about the courses.
If you would like me to create an individual group workshop for you, please contact me! I am looking forward to hearing from you!
Among others, I am currently planning the following painting workshops:
Plein Air Painting Workshop
In order to be able to represent nature in a lively and honest way, it is essential that you see it with your own eyes and directly respond to this. And that is exactly what we will be doing by capturing our individual impression on canvas outside, in front of the motif. I'll teach you how to see correctly, the basic requirement for successful painting. Furthermore I'll show you a lot about the selection of motifs, image composition, capturing the fascinating light of nature with the means of oil paint, the need to simplify things and much more. I will also be happy to share with you the means I have learned over many years to make painting "en plein air" a little bit easier.
Alla Prima Still Life Workshop
Because one has full control over the arrangement, motif and light, still lifes are very suitable for conveying important basics of painting, such as composition, values and using simplification to achieve a stronger painting. Here, too, we paint directly from the subject in order to learn to see correctly and to capture the colors as we humans, and not a camera, see them. I will show you the different ways of applying paint, the importance of soft vs hard edges and much more.
I also offer individual support, where I can fully concentrate on your current level of knowledge in painting. We analyze your current status together and discuss your goals and wishes. This way I can help you to achieve these faster and easier.
Due to the corona situation, I currently only offer this 1-1 mentoring outside, teaching plein air painting. We would be out and about together with a mask and keeping our distance. If distance doesn't allow meeting in person, subsequent support with image criticism and suggestions for improvement could then also take place online via e-mail and video chats.
If you are interested or have any questions, please contact me! I am looking forward to hearing from you!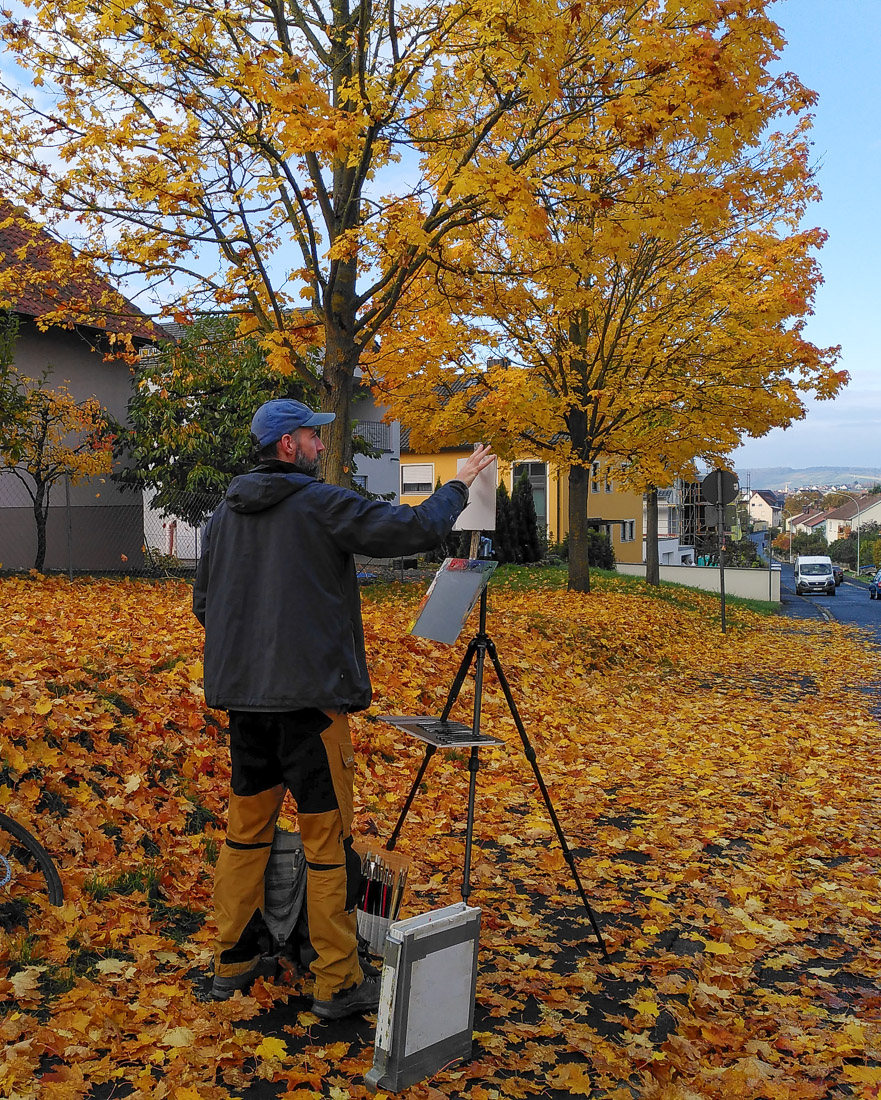 Introduction to Plein Air Painting
To be announced